Machining
Wire Forming & Steel Wire Fabrication
Testrite is a US Manufacturer of steel wire assemblies. Testrite can bend, cut, thread, weld, and more with steel wire. Testrite can pair steel wire with our full range of in house steel fabrication capabilities including steel bases, custom brackets, telescopic tubing, graphic frames, and more! Custom steel wire fabrication is in our wheelhouse.
Bending
We can bend tubing as well as bend sheet steel and aluminum.
Laser Cutting
Our multiple lasers can cut steel up to 1/4" thick in most shapes imaginable. From customer bases to logo'd items, we have the ability to quickly go from design to prototypes to large scale production for a far lower cost than 3D printing
Swaged Tubing
An economical way to form leg ends, so one leg nests into another. A spring button can be an option. Swaging features close tolerances and provides great strength.  We are tooled up for 3/4", 1", and 1-1/4" diameters. For other diameters - there is a one time, non-recurring setup charge. Available with and without optional Spring Button.
Drill or Punch Holes
We can add holes at the locations and in the size you designate. Specify if you need a hole countersunk
Tube Expansion Ring and Stop Line
We expand a line on an inner tube and a stop line on the outer tube. The expansion ring will hit the stop line when a tube is fully extended and prevent the inner tube from coming out
Tube Milling, Punching and Piercing
For small runs, we can mill out slots or other irregular shapes in a tube. For larger runs, our in house toolmakers can manufacture a die which is much more efficient for production
Threading
We can add a thread to a tube or other surface, either directly into the surface, or add a threaded connector if needed
Tube Notching
We can notch tubes to ensure a strong fit with a perpendicular crossbar.
Round corners
We can add rounded corners to rectangular pieces of aluminum or steel sheets. This can reduce the risk of injury as well as improve the aesthetics of the product. If you have a specific radius in mind, please let us know
Logo Imprinting
We have the ability to imprint logos onto finished surfaces (including anodized shapes, powder coated surfaces, and acrylic) for branding where appropriate. This is done through direct to substrate printing. Size and shape restrictions do apply.
Riveting
Testrite has deep experience in riveting, with over 30 riveting machines onsite. We can help identify the right rivet for your application
Welding
Testrite is proud to weld both aluminum and steel in house. We have in house Mig welding for aluminum and steel, as well as spot welding of steel and butt welding for steel. If welding is right for your project, we're happy to quote as per your needs.
Cut to Size
Any of our materials can be ordered cut to the size you need. Available starting in quantity one. New - Available for online pricing and ordering 24/7 under the Shop Online section!
Building Tools and Dies
For larger quantity jobs, we can use our catalog of 100s of dies or build new dies in house for efficient production. Dies enable us to improve consistency, improve speed by reducing the labor required for production, and often combine multiple operations into one step
Miter Cutting
We can cut our materials at 45 degree angles for right corners, or other angles (including compound angles) upon request
Automatic Screw Machining
In large volumes, we can develop unique parts to be machined from a solid aluminum bar (or heavy walled hollow) on one of our 4 automatic screw machines. For smaller projects, we can use one of our many in house lathes. Our 98 years of experience and pre-existing tooling are a tremendous asset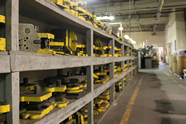 Tool and Die Rack
Automatic Screw Machining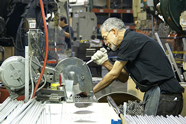 Cross Cut Saw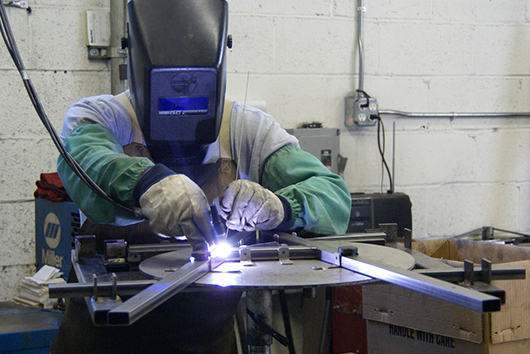 Mig Welding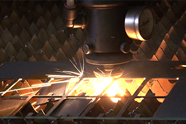 Laser Cutting
Send blueprints and drawings