Telescoping Aluminum Tube Fabrication & Joining
Tube Expansion and Indenting
Typically, an outside tube is indented providing a stop for an inside tube with an expanded line.
Threaded Connector (low cost)
These steel threaded tubing inserts are placed into a tube with hydraulic forces. Once in, the design of the fins help keep the connector secure. While appropriate for many applications, these are not appropriate for higher stress applications. They can be used with round or square tubing.
Tube Notched Ends for Joining
By notching a tube end and intersecting with another tube using tube connectors at 90 degrees, a strong, cost effective joint is achieved. 
Tube Bending
We bend aluminum tubing and we bend steel tubing for various applications. Certain diameters and radii only.
Tube Piercing
For small runs, we can mill out slots or other irregular shapes in a tube. For larger runs, our in house toolmakers can manufacture a die which is much more efficient for production.
Swaged aluminum tubing
Swaged aluminum tubing is an economical way to form leg ends, so one leg nests into another. A spring button can be an option. Swaging features close tolerances and provides great strength.  We are tooled up for 3/4", 1", and 1-1/4" diameters. For other diameters - there is a one time, non-recurring setup charge. Available with and without optional Spring Button.
Spring Buttons
Can use to join telescopic tubes together when one fits into another.  Best with non-rotational tubing.
Strengthened Plastic 3-Way Snap Corners
Our 3-Way plastic corners for round aluminum tubing are designed for our 1-1/4" tubing. We have both Rectangular 3-Way corners and Triangular 3-Way corners. These spring button corners are easy to install while rivets can be used for permanent applications. Can create lightweight aluminum rectangles, triangles and frames.
Plastic 3-Way Snap Corners Assemblies
Strengthened Plastic L- and T-Shape Connectors
We have our own 90 degree plastic corners for aluminum tubing. L-shaped corners in 1" and 1-1/4" diameters. We also stock plastic 3-way T-shaped connectors for our 1-1/4" diameter tubing. These connectors are typically fastened with rivets or spring buttons.
Welding
We weld aluminum to aluminum and we weld steel to steel. We do welding of tubing where appropriate as well as welding many shapes and brackets. We have an experienced team of welders and a variety of methods and equipment.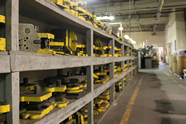 Tool and Die Rack
Automatic Screw Machining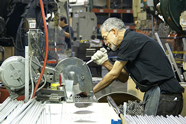 Cross Cut Saw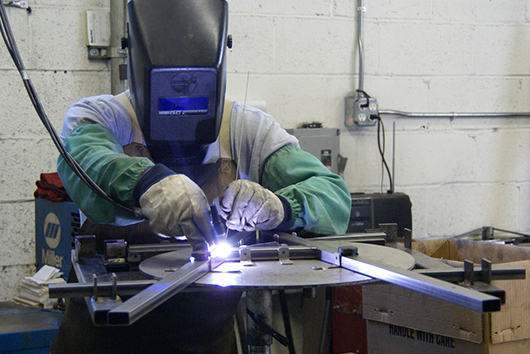 Mig Welding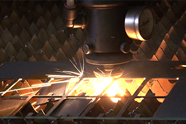 Laser Cutting
In-House Operations
Assembly
Automatic Screw Machining
Bending
Box Making
CAD Services
Cutting
Design & Engineering
Drilling
Forming
Imprinting
Laser Cutting
MIG & TIG Welding
Milling
Mitering
Notching
Piercing
Riveting
Spot Welding
Swaging
Threading
Tool & Die Making
Wireforming

Plus packing, packaging design
and full logistical support.